Worcester City
Population: 211,392 (2022)
County: Worcester County
Postal Codes:  01601 01602 01603 01604 01605 01606 01607 01608 01609 01610 01613 01614 01615 01653 01655
Worcester
City in Massachusetts
Worcester is a city in central Massachusetts. The EcoTarium is a science and nature museum, with a digital planetarium, animal exhibits, and a narrow-gauge railway. The vast collection at the central Worcester Art Museum includes Roman mosaics, Impressionist paintings, and medieval armor. Now a museum, Salisbury Mansion is an 18th-century Georgian-style building, restored to its 1830s appearance.
Some of Our Most Popular Moving Services
Want to explore fine arts, rolling hills, and history?
Worcester is a medium-sized city located in the heart of Massachusetts, approximately 40 miles (64 km) west of Boston and north of Providence, Rhode Island, a major commercial and industrial center and the state's second-largest city, known as the "Heart of the Commonwealth."
It is a principal city of Central Massachusetts, a regional government, employment, and transportation hub, an urbanized area composed of a number of towns including Holden, Shrewsbury, Boylston, Millbury, Auburn, and Leicester. Seven hills and valleys of Worcester contain top-notch museums, colleges and universities, beautiful parks, and food from all over the globe. The city offers an inviting and entertaining arts scene, plenty of unique nightlife dining options, music venues, concert halls, a number of independent retail shops, and a profusion of outdoor recreation opportunities.
Worcester offers not only affordable housing, quality public schools, access to diverse culture, sports, restaurants, entertainment, and reliable local and regional transportation but also a great opportunity to own or rent, raise a family or live independently. Moreover, this most vibrant and livable mid-sized city in the county is a competitive destination for travel and tourism, as well as conventions, events, and meetings.
Relocating to a vibrant and diverse community with green parks, quality hospitals, and proximity to highly esteemed colleges and universities?
Relocating or Moving is easier said than done. Many companies lack commitment due to not being on time, insufficient labor, equipment, and lack of management. Don't throw caution to the wind, Fresh Start – The Moving Crew (Local Moving Company) will not let you on thin ice because our commitment is quality. If you're trying to find reliable, trustworthy, and experienced help while preparing for a move, you can end your search by reaching out to Fresh Start – The Moving Crew. We have been a leading company in the industry for a long, offering reliable, punctual, precise, and all-around great service, are available to assist anyone in the Worcester, Massachusetts, area. You can feel comfortable placing your confidence because our team is licensed, bonded, experienced, accredited, and equipped.
Moving is not easy it is a challenge if you're doing it alone. Bringing a level of care, unmatched professionalism, and managing your relocation stress is our top priority. We offer a wide variety of moving services, and packing needs tailoring to fit any moving needs:
Our Full-Service Moving: handle local and long-distance moves from beginning to end, including packing, loading, transportation, furniture assembly, and more.
Local Moving Service is a great option when moving nearby.
Storage: We provide both long-term and short-term safe and convenient storage solutions for your valued possessions when a move requires putting your belongings in storage until you arrange your new home or office. Call us for availability & pricing at (508) 868-4291.
Junk Removal: We have a team to haul away unwanted items and dispose of them properly and safely, saving you the hassle of arranging dumpster rentals.
Moving labor: we provide labor-only professionals in your area.
Packing & unpacking: Our packing and unpacking services will ensure the security of your belongings during moving.
Our experienced, skilled and trained movers can pack your personal belongings into moving boxes, and then transport your valuables with care and consideration in newer and clean trucks with proper moving pads and equipment. Our goal is to deliver your items on time and to assist you in setting up your new home as soon as possible.
Fresh Start – The Moving Crew is a local, affordable moving company offering local, long-distance, residential, commercial, and specialty items moving. Our courteous and friendly staff will handle all of your belongings with care and make sure they arrive at their new location safely and in perfect condition. Apart from residential and commercial moves of any distance, we are happy to offer reasonably priced boxes, packing supplies, and padding of all furniture with moving blankets as well.
We offer the following services to make your move successful:
Residential and commercial moving

Labor Only

Local and long-distance Moving

Apartment Moving

Packing Services

Senior Moving

Delivery Services
Piano & Safe Moving

Large item Moving

Pool Table Moving

Packing Assembly

Furniture Moving

Full-Service Moving

Long Term & Short Term Storage

College Student Moving
Moving Labor

Art & Antique Moving

Residential Relocation Services

Packaging Services

Piano & Organ Moving

Shrink Wrapping

Equipment Moving

Moving Services
Home Moving

Piano Moving & Storage

Home Staging

Specialty Moving

Office Moving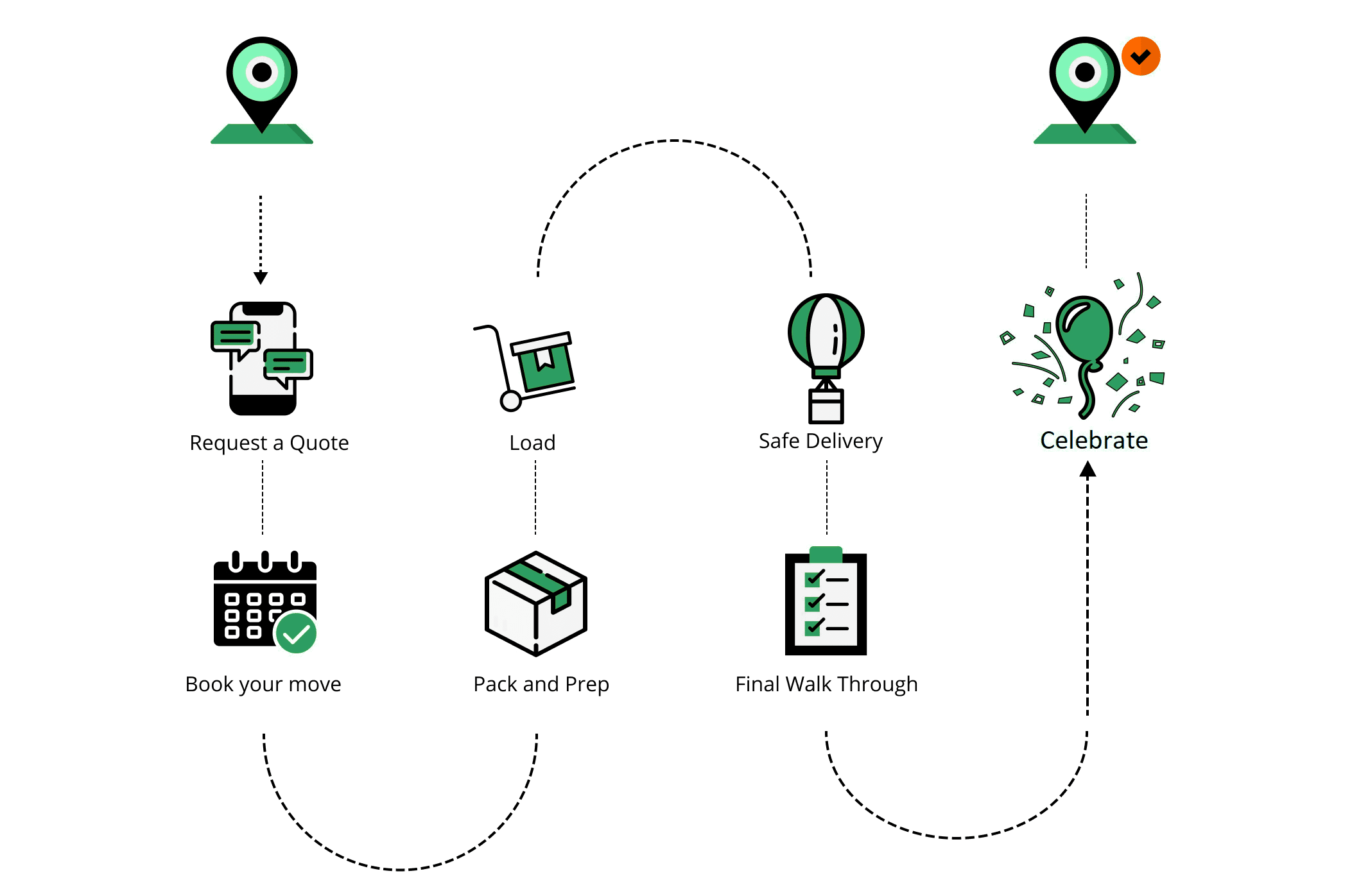 Quick and Easy Moving Quote by Form or Phone Call
We Carefully Load Our Trucks
Your Items Arrive On-Time, Safely
Hooray! Your Move was a Smooth Success. Time to Celebrate!
Confirm and Schedule Date and Times for Your Move
We Pack and Prep Your Valuables
We Go Over Everything for Your 100% Satisfaction